December 24th, 2014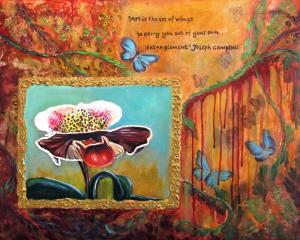 My husband and I decided that putting new cabinets in the kitchen and vanities/sinks in the bathroom was a must this year. The original woodwork was a slapdash effort by the builder 20 years ago to come in under budget and on deadline. We were not aware of this until my husband put storage cabinets in our garage and discovered that the inexpensive white laminates sold by Home Depot were the exact same ones as in our kitchen and bathrooms.

Our project was supposed to start one week ago, and we're still waiting. Living out of suitcases and boxes is much like camping out. We've also been eating a lot of T.V. dinners and dining out. Finding space and time to paint has been difficult.

I appreciate the inspiration I continue to glean from all of you, and from the late Robert Genn and his daughter Sara who is keeping up their traditional newsletter. These two quotes were my favorites:

"Where you struggle, there lies your treasure." (Joseph Campbell)

Think about this! The things you work the hardest for are usually worth more to you than the simple enjoyable pleasures that last only a short time. Trying to master a new skill, a new language, or working on a relationship that you recognize as important is worth the effort and the tears because the final product or result will be priceless!

Where does your treasure lie? What do you put the most time into? When you're finished, will you be a stronger and better person than before? This is a good measuring stick or criteria from which to build. "Where you struggle, there lies your treasure."

I devoted one of my paintings to Campbell for this quote: "Art is the Set of Wings to carry you out of your own entanglement." The painting: "Release – my Trail of Tears" was a real metamorphose of color and emotion for me.

Here's another beauty:
"What the caterpillar calls the end of the world, the master calls a butterfly." (Richard Bach)

When we fail, we see it as a disaster. Like the caterpillar, we may think our life, our career, our romance is over. But if we're patient, if we're willing to try again, we may discover something wonderful! A fragile butterfly may emerge from the ashes of our defeat and lift us into new spheres of possibility.

I've had to face a lot of obstacles recently. My career has been in a slump and one crisis has replaced another in my efforts to gain a foothold. Life may slow me down, but I will not be defeated. How about you?