November 30th, 2016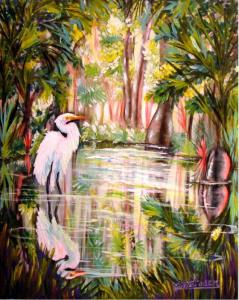 A wood stork went fishing in the pond behind my villa. She waded out only a few inches, her gangly legs stilt-like above the surface of the water.
Thinking her fishing expedition would require time and patience, I turned away; but a flash of white from the corner of my eye brought me back to the window. Sure enough, the wood stork flew in my direction across the water, over the golf course and into my backyard.

The fish in her bill was a large sunfish; a prize catch. She held onto the squirming fish, struggling to get it down. With each swallow, her throat expanded. I worried that she'd bitten off more than she could chew. Like a mother hen, I fretted that she'd choke or worse yet, die from over consumption.

I must admit, I can relate. My own eyes are sometimes bigger than my stomach, and I often dish up much more than I can eat. Humans are not alone in this. Seagulls have been known to stuff themselves so full they must regurgitate. But when they're done, they go back for seconds and thirds.

A Burmese python running loose in the Everglades tried to swallow an alligator. The python's eyes were bigger than her stomach; and to make matters worse, the alligator was prickly going down. The bite, the python's last, proved fatal. The snake's lusty appetite was too much of a good thing. She literally exploded before her feast was over. Forgive me if I'm glad.

Once an endangered species, alligators are battling for their lives again. The indirect cause is man. Burmese python's brought to Florida from Southeast Asia as pets are the alligator's number one problem. What would you do with a pet that has grown from one foot to almost 20 in a just few short years? Not wanting to euthanize a favorite pet, owners are releasing them into the wild. Not a good idea!

What happens when a 15 to 20 foot snake is set free in a lush tropical climate? They find others of their kind and multiply. Hungry Burmese pythons are devouring the food that indigenous reptiles and animals need for survival. They are eating already endangered species like mangrove fox squirrels and the endearing wood storks. They are competing for food with other threatened species like the eastern indigo snake and, of course, the alligators. But isn't there enough food to share? Not by a long shot.

The pythons are foreigners to Florida; they have no natural predators. They literally breed and feed unhampered by any natural enemies. That is until the Florida Fish and Wildlife department stepped in and declared open season on their removal. Each year, a special hunt is held to rid the everglades of these unwanted snakes. Anaconda, another encroaching pest, is included in this special shoot out.

Hunters from all over the world, eager to use their snake hunting skills participate. Once the snakes are caught, they will be killed either by machete or shot gun. If this makes you squeamish, consider this: the U.S. population imported approximately 144,000 Burmese pythons over the last five years. The hunt's kill represents only a drop in the bucket.

I'm cheering for the hunters on this one, and hoping that the Burmese python has taken its last bite out of Florida's fragile ecosystem.