March 24th, 2015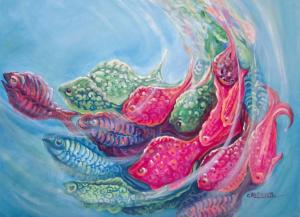 As an artist, I've thought a lot about that statement. What is it that makes me create and why do I do it? Perhaps my answers will also be yours:

An artist wants to share what touches him or her visually and emotionally, and may find it difficult to impart these feelings in any other way.

An artist has a driving passion to put down on paper or canvas the experiences in his or her heart and soul that would either cause them to explode in joyful ecstasy or painful agony if not expressed. Artists and writers often share these same passions, but articulate them through different mediums.

We all have a need for intimacy, some people more than others. When someone views an artist's work it is like inviting them to share an intimate moment of our personality and perspective on life.

An artist may create a mini-story, a glimpse into the human soul, a taste of the human condition, or they may take us on a wonderful adventure either through realism or exciting plains of color and movement. The viewer may virtually walk the terrain of uncharted territory, explore the shape and form of facial structure, and fathom in a new way the miracle of life, the struggle of humanity, or the joy of rebirth.

By altering line, angle and space through color, light and shadow, an artist controls the mood and mind of the viewer and leads him or her on an intimate journey around the canvas and back again to the focal point or center of interest. Viewers are rarely aware of the invisible companion who leads them from one point to another as the story unfolds. When the onlooker experiences pleasure, happiness, or darkness the artist has done his or her job.

"So this is what old age brings?" an observer may comment on seeing an unfulfilled wastrel lamenting over his fateful actions.

"That's exactly how I felt when I was dancing," says another, as they sway in their mind and remember the cadence of drums, sand, and the smells and sounds of the Caribbean. You brushed this scene onto canvas using your own fond memories where they lingered playfully in your mind waiting for you to give them life and breath.

Fulfillment happens when the artwork is finished not when it's viewed, commented on, or sold. As artists we rarely get to see or know the experience of the viewer or whether they perceived your art in the same way as you created it. Once you have "put it all out there," you have done your part. The rest is up to chance, fate, or destiny. For some of us, it is a blessing from God for which we are eternally grateful and joyful.