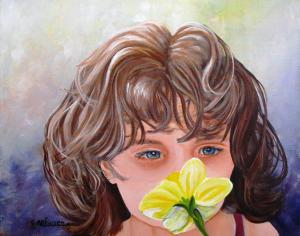 After I did the blog on painting food, I thought that it was sad that we couldn't actually smell the tempting deliciousness on each canvas. That got me wondering if anyone had ever tried pairing a fragrance or scent with a painting.

I did a Google search and was amused to find many pages devoted to the subject. In this case, instead of being tied to food, the subject matter featured was either artwork of well known brands of perfumes, or they were of flowers. Much to my surprise, my painting "First Daffodil" and my peach rose "Lady in Waiting" were featured on page three of that search.

Still I wondered if anyone had ever tried to create actual scents to highlight a canvas's sensuality. I did find a teaching tool for toddlers using paints and imitation flavoring. For instance, the color purple would have a grape scent, and the color red would have a cherry or strawberry scent. It was a very tactile experience and a wonderful teaching tool.

Then I discovered that a group of adult artists are actually doing it – adding fragrance to paints. On the blog for Fremont Heights Art it said this: "Scented paintings, a new concept in the world of art created by us, taking our work in an entirely new direction, ever heard of or even seen a scented painting? Various fragrances infused in paint bringing the work to "life" creating a sense of being in the painting actually smelling the environment. Handmade fragrances fused into our handmade works; one of a kind. There are no reproductions of any scented paintings made.

"For example, imagine a female figure painting infused with a handmade lavender fragrance. As you view the painting, the lavender gently emanates from the figure giving you the sense of the female wearing a perfume. The fragrances can take up to weeks to create and then infuse into each individual color used in the painting. The painting itself can/may take more than a month to create. These paintings will be priced much higher due to the intense labor it takes to craft these interesting works, but well worth the time, wait and money. The methods and recipes for creating the fragrances and infusing them into the paints will not be revealed in any shape or form. Paintings start at $10,000. Get yours now!"

Check them out at this link http://www.fremontheightsart.com/scented_paintings

Museums have featured scent before. Thinking that "fragrance" is an art unto itself, they began creating sconces or wood pieces to compliment the scent. Viewers would actually push a button and a scent would be sprayed out and waft them with mist that brought images into their minds.

I don't know if this will catch fire or if it's just an anomaly in the world of art. The most common paintings that came up during my search were of flowers, or of people smelling them. A few sites focused on animals which are known for their keen sense of smell. Sometimes a humorous play on words showed a painting titled "Horse Scents" rather than "sense."

At any rate, watch for this unusual art form to see if it catches fire in the art world. Some people may hope that it does, literally.