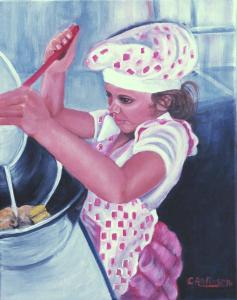 I delight in painting children. There is such a freshness and openness in their faces. No masks to hide emotion. No walls to put distance between them and us. Their innocence invites us to experience life anew as we once did when we were children.

My latest painting took me much longer to complete because of health issues. I didnít want to clutter the background with details that would take the viewerís eyes away from the center of interest. Donít get me wrong, Iím a fan of ďbusyĒ paintings. I like to spend time wandering through a scene and taking it all in. Restaurants, unusual rooms, people involved in talking or working are some of my favorites.

But there are times when the main event can get lost in too much detail. One of my favorite artists is K. Henderson who knows how to use detail to her advantage. She works in oils but also uses watercolor and illustrates a journal that she shares with others.

Kay is a naturalist, artist and photographer. She travels extensively to areas such as Alaska, and as far away as Manitoba, CAN. Her dialogue and her web site are well worth checking out if you arenít familiar with her body of work.

Here is a link to her Indian portraits: http://khendersonart2.blogspot.com/

This painting is another good example of an innocent child surrounded by the detail I love to paint.

I do a lot of photography in making painting and composition decisions. I file them away and review them when I'm looking for a certain detail or subject. Photographs can preserve memory. When you add it to a quick color sketch the scene you captured days or weeks before can quickly come to mind.